GG5126 Marine Petrophysics
Introduction
This course provides an introduction to marine petrophysics, the study of sediment physical properties and their interaction with fluids. The course covers laboratory and in-situ methods for measuring standard petrophysical properties of marine sediments. These include, pore space properties and permeability, as well the elastic, geomechanical, electrical and thermal properties. The course will look at quantitative relationships between these properties, and through numerical exercises, the students will learn how they are commonly applied within industry and research to investigate different marine geological processes.
After completion of the course, the student is expected to:
Describe and select appropriate measurement techniques used to derive basic petrophysical properties of marine sediments
Quantitatively evaluate stress states in marine sediments and explain how they influence petrophysical properties.
Predict how lithological changes will affect the physical properties of sediments
Develop a quantitative petrophysical model for marine sediments by combining measurements and established empirical relationships between key parameters.
Course Literature and Learning Resources
The course textbook is: Malcom Rider and Martin Kennedy, 2011, The Geological Interpretation of Well Logs (third edition), Rider-French Consulting Ltd., Scotland ISBN: 978-0-9541906-8-2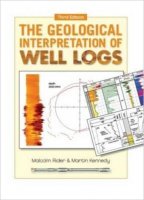 For some Moments, additional reading is required, and in all cases this is available to download as a digital resource from the Stockholm University Library. Information on the required reading is provided at the start of each Moment.
Assignments are, to a large degree, numerical, and some require the student to plot and analyse data. This can be done by hand, but you are strongly encouraged to independently learn and use freely available software. This will enable you to develop practical skills in working with, analyzing and presenting data. Tables and graphs generated using software can easily be imported into a text document to illustrate and support your answers.
You are welcome to use any software that you are familiar with. However, below are a couple of links that some students may find useful. If you choose to use these tools, it is your responsibility to learn them. There are extensive tutorials and help available online – it is simply a matter of looking for it.
LibreOffice is a Free and Open Source office suite that includes several applications that can be of use: Writer (word processing), Calc (spreadsheets), Impress (presentations), Draw (vector graphics and flowcharts), Base (databases), and Math (formula editing).
Veusz is a scientific plotting and graphing package. It is designed to produce publication-ready Postscript or PDF output. SVG, EMF and bitmap export formats are also supported. The program runs under Unix/Linux, Windows or Mac OS X. Data can be read from text, CSV, HDF5 or FITS files. In addition, you can also enter, manipulate or examine data from within the application.
Which language?
This course is only offered in English. You must therefore answer questions in English. We are aware that this is your second language, and we promise to be lenient regarding language errors.
How will you be graded?
You will normally receive your graded exam within no longer than two weeks from the date of your exam. Your final grade is based on the following:
| Credits | ECTS grade | Older system |
| --- | --- | --- |
| 0-39.5% | F | Fail |
| 40-49.5% | Fx | |
| 50-59.5% | E | Pass |
| 60-69.6% | D | |
| 70-79.5% | C | |
| 80-89.5% | B | Pass with distinction |
| 90-100% | A | |
If you fail the course you are entitled to a re-exam. Please note that the dates for re-exam will be sent to you by the coarse leader.
Is there a course schedule?
There is a set start date for the course and dates for the final exam. These are sent to you after you have been admitted to the course. Within that time period, you decide your own pace to complete the course material.
Now... Let's Get Started